Virtual Programs Extend Student Reach
Author: Danielle Honeycutt
Community Involvement
Published: Tuesday, 16 Mar 2021
---
Sharing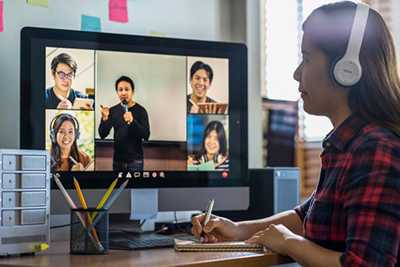 Image caption: Students are still participating in JA programming virtually
Almost One Year Later
It's been almost a full year since the onset of the pandemic, school closings and businesses everywhere adapting as quickly as possible in order to remain successful. The team at JA of Central Carolinas pulled together and shifted to a completely virtual programming model that would work in coordination with the transitions taking place within the school systems we serve.
What followed was much trial and error requiring innovation and flexibility from our team, our partners and those we serve. Did the burden of so much change become heavy at times? It did. How did we remain focused? We kept our eyes on the mission.
With the mission at the forefront of every decision and every action, it serves as a beacon for all we do. With or without a pandemic. At JA, we believe every individual possesses boundless potential and it is our mission to help students achieve a fulfilled future. We deliver on this through education and programs that supports our three pillars: financial literacy, work readiness, entrepreneurship.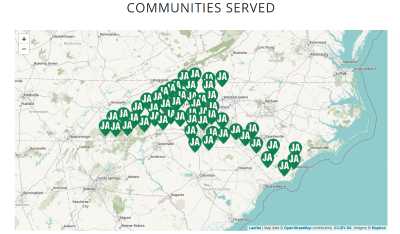 Image caption: JA of Central Carolinas serves 53 counties across NC and the northern part of SC
"There's a crack in everything, that's how the light gets in." - Lenoard Cohen
There have been many accomplishments during this challenging time. One that's been the most rewarding is the ability to deepen our relationships with school systems and ultimately extend our reach to students beyond those closest in proximity. The sheer size of Charlotte Mecklenburg Schools and the accessibility to both our hands-on learning center and our volunteers ability to be in-classroom has always made them them a strong partner and front runner for the educational opportunities we provide. With the addition of remote learning, we have been able to maintain those valuable relationships but also further engage teachers and students in counties such as Chester, Lancaster, Pender and York. Our hope is to take what we've learned and provide a hybrid model once in-person learning is fully reinstated.
Spring Programming Underway
Always one of our busiest seasons, the same is true for Spring 2021. We are grateful for the corporate and community volunteers that continue to share their career pathways and teach students the critical skills needed to increase the likelihood of finding career success, start a business and navigate economic uncertainty. Alongside our partners, our curriculum is how we will continue to make a difference in the lives of youth in our community.
For more information on these or other opportunities, contact us at hello@jacarolinas.org or follow the links for more detail.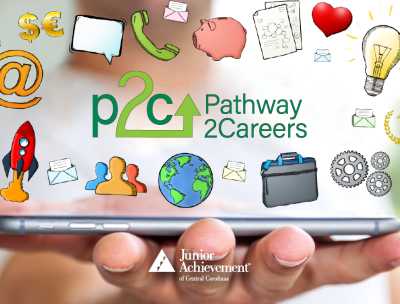 Image caption: Pathway 2 Careers is just one of several featured programs this spring.
We use cookies to provide you a personalized experience. How we do this is by analyzing user behavior on our site and sharing data with our advertising and analytics partners. You consent to our cookie policy if you continue to use this website.