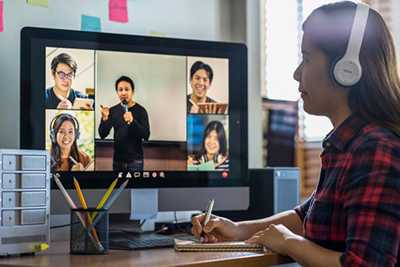 Image caption: Students are still participating in JA programming virtually
Almost One Year Later
It's been almost a full year since the onset of the pandemic, school closings and businesses everywhere adapting as quickly as possible in order to remain successful. The team at JA of Central Carolinas pulled together and shifted to a completely virtual programming model that would work in coordination with the transitions taking place within the school systems we serve.
What followed was much trial and error requiring innovation and flexibility from our team, our partners and those we serve. Did the burden of so much change become heavy at times? It did. How did we remain focused? We kept our eyes on the mission.
With the mission at the forefront of every decision and every action, it serves as a beacon for all we do. With or without a pandemic. At JA, we believe every individual possesses boundless potential and it is our mission to help students achieve a fulfilled future. We deliver on this through education and programs that supports our three pillars: financial literacy, work readiness, entrepreneurship.